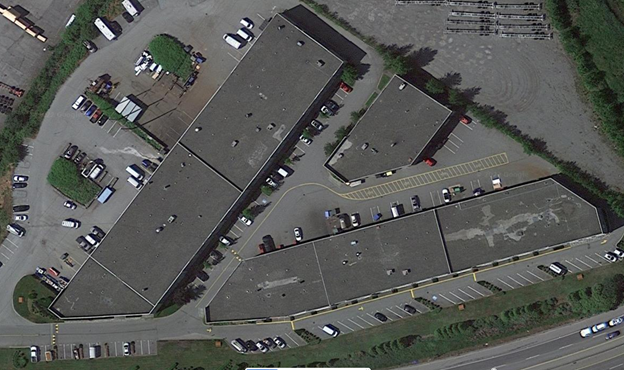 Rob's electonic component rep business is headquarted in a shared complex of two-story industrial bays.
In the fall of 2020, Mo, who's business is in the bay next to Rob's, came to him with a tale of woe. The trailer he keeps behind his bay had been broken into. Tens of thousands of dollars in tools and material had been stolen.
This was a surprise as their complex has gates, cameras and security patrols. Mo browsed through the security camera footage and found the culprit arriving on a Sunday morning at 4 AM. The perpetrator tried the side door first than moved to the rear double doors. It took him 45 minutes to break into the trailer. Seriously it took that long to break in!
Rob asked why the trailer wasn't alarmed and Mo replied, "I'm not sure it's possible".
Upon further investigation Rob determined that because the trailer is mobile, it doesn't have power or WiFi connections, since those provisions aren't possible when the trailer is moved.
Next, Rob checked with Steve Todd, whose Stealth Security company provides the alarm systems for their industrial complex. Sure enough, Steve confirmed that because the trailer was mobile and had no power there were no alarm systems on the market that would work here.
Further, Rob lives in a neighbourhood where old houses are being torn down and new luxury homes are being built on the lots. Here too, Rob discovered, break-ins into construction tool trailers by thieves was a common occurance.
Sensing a business opportunity, Rob got a flash of inspiration. If he could just figure out how to wirelessly connect a small, portable, battery operated device with intrusion sensors to the internet, he thought there would have to be a market for something like that.
The first idea was to adapt a trail camera, used by hunters and field bioligists to automatically capture images of wildlife in their habitat. They are triggered by passive infrared motion detectors and can capture still images or video. However, they only record images for inspection later. There is no realtime notification that the device has been triggered. By the time someone got to downloading the images from the camera, the thieves would be long gone, probably taking the camera with them.
Another problem with the trail camera idea was that it was very power hungry. The remote camera needed 8 AA batteries to power it for up to a couple of weeks at best.
Rob turned to his friend and long-time customer, John Turner, an experienced RF engineer with his own design and consulting company, Valhalla. the two of them initially thought they might be able to modify the trail camera to use less power but getting realtime notice of a break-in was still a problem.
Finally, John suggested they rethink the problem and start from scratch.
Around this time, the whole 5G LTE Internet of Things (IoT) technology was getting off the ground. This technology is specially designed to be extremely low power and to use the 4G and 5G cellular networks as a gateway to the internet. Major cellular carriers were starting to build out their networks with the necessary 5G IoT infrastructure.
Furthermore, low-cost chipsets from companies like Nordic Semiconductor and Quectel were coming on the market, making it relatively easy to implement a small, reasonably priced device that could stay alive for years on 4 AA batteries.
With an experienced RF designer on board, Rob then recruited Jack Woida for his broad business background in the tech industry and Jason Hennig for his software expertise.
The team now has a working prototype that includes a cellular modem for connecting to the 5G IoT network. Users can communicate with the device remotely over the cellular network, or locally using either Bluetooth, a USB port, or an NFC reader capability.
The device is triggered by onboard sensors that include a microphone as well as an accelerometer, both of which are used to detect the noise and vibration of an intrusion attempt. The device includes inputs where the user can connect door switches which will trigger if a door is compromised. There's also a GPS receiver on board which is triggered to take a fix if the trailer is moved.
All this data is immediately transmitted over the 5G network to a cloud-based data collection site and then communicated either to the security monitoring company or to the end user. There is also SMS messaging capability so that an alert can be sent to the end-user's cellphone.
This is the story of the business idea behind Remote Iot Security Ltd.